Introducing Corporate and Unlimited Paintball Packages.
There have been a lot happening at Asylum since the beginning of the year 2017. We've upgraded our Low Impact Paintball arena, introduced Teen's Birthday Packages and even built another classic/teen's/adult's paintball arena.
And now, continuing to bring you new in 2017, we offer amazing Corporate Paintball Packages with Unlimited reloads.
Unlimited Paintball Games were in our heads for a long time, and finally the stars aligned for it to happen:
Earlier in the year Asylum Paintball introduced paintballs that are made in New Zealand by Run and Gun Sports (RAG).
Now that we've secured a local supply of ammunition next move for us was to create a perfect package for our customers. So we created one where there was no need to worry about the amount of paintballs.
Only at Asylum Paintball no one will run out of paintballs during our Unlimited Paintball Games
True paintball heaven – unlimited paintball ammunition supply while playing!
We are hoping to please everyone with this exciting concept, and, oh boy, we are thrilled to be the first to introduce games with Unlimited Paintball Reloads in Auckland and in New Zealand.
This is a massive change to the way the recreational paintball is played.
Thinking of booking a game or maybe you have more questions for us – go ahead and contact us.
Meanwhile let us explain how it all works:
First you need to make a booking for a session of Unlimited Paintball Games with us (Asylum Paintball).
Next, when your group arrives, all the players are kitted out with a full Asylum armor kit.
The games are then run by trained professionals (our instructors) on the best arenas New Zealand has to offer.
Players receive multiple reloads during the games at the designated reload stations and the battles are won by completion of various objectives.
Many different scenarios keep players entertained through out the session and our indoor facilities allow for enjoyable breaks in between.
That's it. No limit of lives and no limit to your reloads.
Do you think this would change the game?
Come to Asylum Paintball and find out for yourself.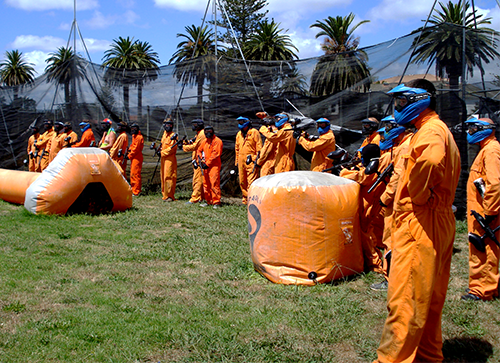 Unlimited Paintball only at Asylum Paintball
Asylum Paintball now offers unlimited paintball packages with every item included and with nothing to worry about.
We have 4 of the best arenas and outstanding instructors to entertain and guide you.
Let us show you what paintball is really all about! Don't settle for less and choose the best.
Phone us on 09 277 0075 or contact us here.